The Snowman (2022)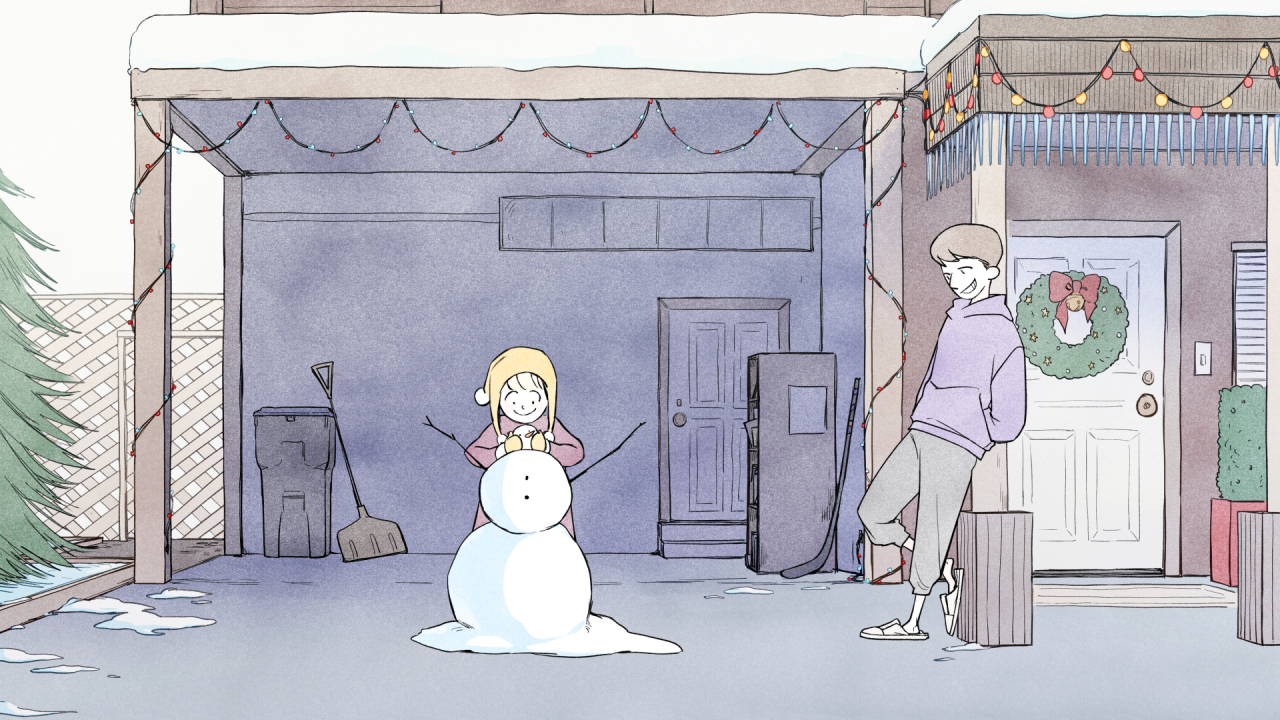 You seem to have stumbled across a hidden piece...
This piece was produced in April 2022, but is not yet available to the public. You can scroll down to hear a little about it, but for the actual animation, please stay tuned for future updates!
Conception
I hate to be so forward, but this is the truth, so might as well start with it: this little film is a very powerful piece. Oh, but it's true. As a snowman film completed on April 22, 2022, it rose to become the driving force behind all the spring snow in Rochester, NY.

It was not at all intentional. I didn't even know I had such powers at the time. In my defense, it was not conceived in spring, even, but in January—in the last few pages of my 2021 sketchbook, as I tried to figure out what kind of story would thrive in a very, very short timeframe.
The short length came about in the form of a traditional challenge: to make a 30-second film. At Rochester Institute of Technology, it was customary for seekers of the Animation MFA degree to make their first film last exactly 30 seconds. Not a frame more, not one less.
The creative writer in me rejoiced at the idea of writing a visual flash fiction, but ideation was difficult. What could possibly fit in 30 seconds? It was probably that same writer in me who insisted that it had to be a story—the full suite of a three-part arc, with surprises, with humor, with a commentary on the peculiarity of the universal, seemingly mundane everyday.
I thought about children. Vivid little wants barely containable in their little mittened hands, and the single-minded pursuits that follow, because they somehow, always, manage.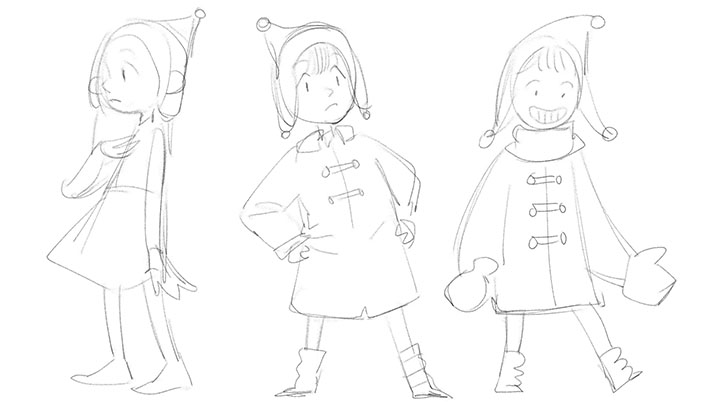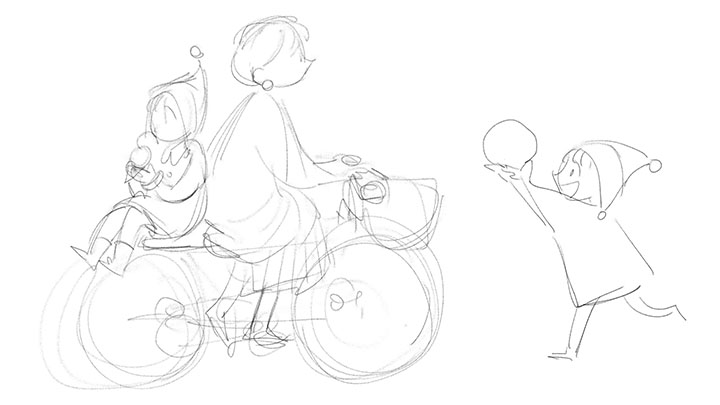 Hey, a snowman!
I know. A child and a snowman. Tracks back to Frosty in 1950, with a corn cob pipe and a button nose. It was arguably still doable when Raymond Briggs did it so stunningly in 1978 (one of the books that, along with Oscar Wilde, scarred me for life as a child). But at this point, entirely, utterly, redundant. The child makes a snowman, the snowman comes alive, loves warm hugs, and so on. You really don't need to see it another time.
(In fact, there was another snowman film at RIT's semester-end screenings. Yes, Frosty came alive in that one, too.)
This idea was strange to me, because I usually don't like playing to stereotypes. Why a snowman, of all things? Of all the possible things that could come alive, why?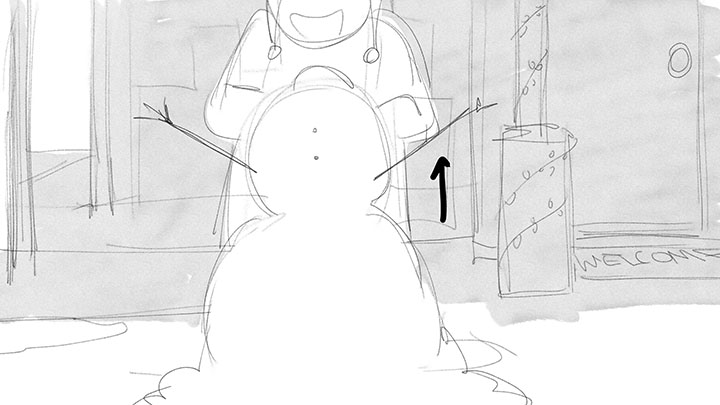 But the image had come from my own experiences: little moments that float around in my subconscious, seldom rising to the surface, but shaping my way of thought nonetheless. Yes, like the nightingale story by Oscar Wilde. And also the snowman I made when I was not so little, while visiting my cousin in Albany, NY.
As a creative wri... artist, I knew to trust a gut feeling like that. So I brewed on it, jotted down what came into my mind, and thumbnailed it. Did a mental reel to if I could see it as a 30 second piece. I could.
I took it to class, and narrated as I flipped through it. People laughed. That, too, seemed like a good sign.
So told myself, well, I'll just try and tell a different story. I'll try to somehow surprise with a child and a snowman that comes alive. See if I can pull it off. And if it falls flat, well, we all know that a classroom's a great place to fail.
Tools
Clip Studio Paint - Concept & Animation
ToomBoom Storyboard Pro - Storyboard & Animatic
Credits
Music Score - Rita Veneziale
Little Girl - Lila Sage Bromley
Brother - John Silke
Special Thanks
Peter Murphey - advisor
Dave Sluberski - for generously sharing his better ears
Mari Jaye Blanchard - for pointing out that I should apologize
RIT Animation MFA Class of 2024 - for sharing the process
Parents - for using the time difference of the West Coast to endure my e-company at late nights
Have the password?
Well now! Then please whisper it here, so we can see if you can be admitted into the "Staff Only" room...