Somebody's Bookshelf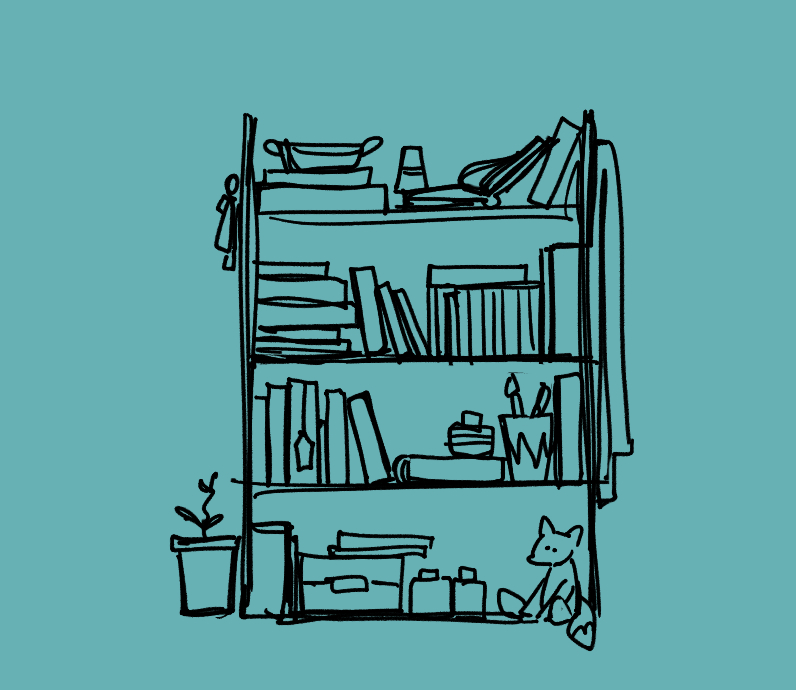 It's quite bizarre, really, that I still write.
Let me rephrase that: I find it surprising that I am still drawn to writing, when I'm doing so much visual arts every day. There are times when it really feels like I should have moved on to thinking in pictures rather than words. But I haven't. Instead, I do both.
It must be that there are things that can only be said through images, and things only expressable through words. There are stories that I ache to tell, that keep me up at night only to power me through the day, and some of them, somehow, demand to paint their pictures in the reader's head, rather than for the viewer's eyes.
Not that those couldn't be told through visual imagery, I suppose. But I am always for economic storytelling, in all forms of art that I do. And while many times a picture paints a thousands words, a word can also paint a thousand pictures.
And it's not like reading's dead, either. We might lament over the decline of paper reading, but we definitely still read. We read a lot. Lingual art is the form of expression most intimate to us: it's the most widespread way we understand, and communicate those understandings--perhaps even more so, in fact, with contemporary hand-held technology we all live with. Perhaps you're even reading this with one of those now.
I write whenever possible, as in, in times except for those periods when there is absolutely no wriggle room to squeeze in a single straw. I enjoy writing creative fiction, and at times poetry, and despite my whole rant about "the who am I question" in the about me page, I also like writing about myself.
If that's something you're interested in reading, well, I'm in luck, because the things I've written in the Future History page may be about to be read. If you'd prefer to hear about things I've printed and/or sent out to the world, well, they are below, so please read on:
Wandering Bookshelf